Bollo Studios: South Acton's hub for creativity
by Big Dada
Nestled between Bollo Brook and South Acton park sits the Bollo Brook Youth Centre, a place for young people in the community to hang out and get creative.
Endorsed by Youth Music and the Young Londoners Fund, Bollo Studios is the creative wing of Bollo Brook, which was born out of a desire to give young people an opportunity to explore their creativity. A space where they can develop and express themselves through the arts.
"There is space for song writing, engineering, producing and mixing, beat making, vocal coaching [and] lyric support. At Bollo Studios they do things to a professional standard, preparing the youth so that if they do go into the professional world they are ready for it.
Bollo pushes local events to help show people's talent — performance techniques, voice control — help people become more creative — work on how to project themselves and take part in music festivals.
It's got direction, it's experience, it's a challenge — it's what we need."
- Bollo Brook member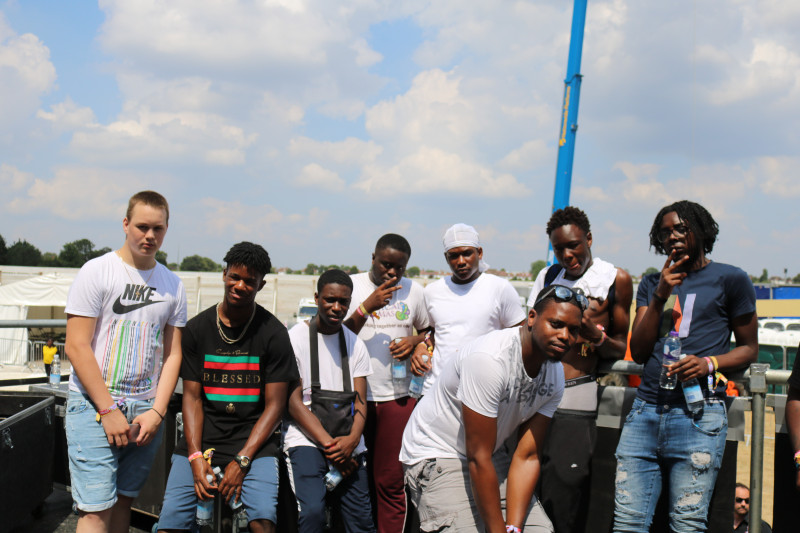 (Bollo Studios at Lovebox Festival)
Open for 30 hours a week with studio support from producers, Reuben G and Blackstar, Bollo Studios is paving the way for its young members to become the next generation of artists, writers and beatmakers.
The studio's efforts are also piquing the interest of the industry. They recently collaborated with Jamal Edwards' (founder of SBTV) youth organisation JEDelve to make a series of music videos for some of the tracks made at the studio.
In addition to music, Bollo Studios is also making waves in the local art scene. They currently have an exhibition on at Pitzhangar Lane titled 'Who Are We? Navigating Race, Class and the City'. It's on till 13 February 2022.
This exhibition was curated and created by the young people at Bollo Studios alongside local partners and artists. It is their portrayal of the complex, often chaotic realities that many youths navigate as they look to carve a place for themselves in the world.
In sharing their personal experiences and perspectives of life in the city today, they present a crucial challenge to us all: how can we better understand inequality and injustice from different perspectives? We are prompted to ask ourselves: as individuals and as a society, who are we?
"In mainstream society, race and racism can both seem hidden, not talked about openly, and discussed at great length in well-meaning liberal circles. Growing up as a young man of mixed Irish and Kenyan heritage in Acton, race is often discussed openly amongst me and my peers, with far more fluidity and ease than most adults seem capable of. None of my friends worry about what can or can't be said, and racial terms are thrown around as insults and compliments with little concern about causing offence. To some people this can seem shocking, but maybe it is far healthier than the quiet judgements and polite keeping a distance that prevails in a mainstream society so desperate not to be seen as racist, but also so scared of young people like me.
As a young black woman growing up in South Acton, from an early age I was aware of drugs, crime, death, hearing domestic violence in my block. At the same time, I have seen the community networks around me and the places I called home, with all my memories, disappear, as the estate is transformed by a massive regeneration. These issues have impacted on us, but not defined us. We have also laughed, learnt, fallen in and out of love, made mistakes and made friends. We have looked to carve our own reality in a world that can seem hostile to us.
These tales of modern-day inequalities, identities and injustice will not find easy answers in good intentions or policy changes alone. It is only by asking ourselves difficult questions about our own conditioning and the role of race, class and the urban environment in ours and others' experiences, like we have in this collection of works, that we can really start to understand the role they play in our society.
The conversations continue. We invite you to join them."
- Sonny Inglis and Ami D Kourouma (Artist's Statement)
As one of the creatives said, "we're trying to set the world on fire — Bollo Studio's is a place for risk taking — constructive risk taking!"