"How can I make people think about the stuff that you don't like to think about?" Get to know emerging artist TEE
by Youth Music
"What's wrong with the world, mum?" That's the opening line in artist TEE's track 'Black Wings', a powerful spoken word piece with a message that tackles TEE's feelings following George Floyd's death in 2020. In October 2021 the track took home two wins (Lyricist and Live Performance) at the Youth Music Awards in association with Hal Leonard Europe – Youth Music's annual award show celebrating the most forward-thinking projects and people making, learning and earning in music.
We sat down with TEE over zoom to talk more about his journey as an artist, taking yourself seriously, and using music to open up the conversation on difficult topics.
Hey TEE, could you introduce yourself?
Hi everybody. My name is TEE, and I am 27. A bit about me - music has been in the family since I was crazy young. But I started taking it seriously when I was about 16, writing poetry and raps and all that sort of stuff. And then when I went to uni I got into playing bass and musical directing, and in my second year I was really wanting to do poetry and rap together. So that's kind of how I ended up here.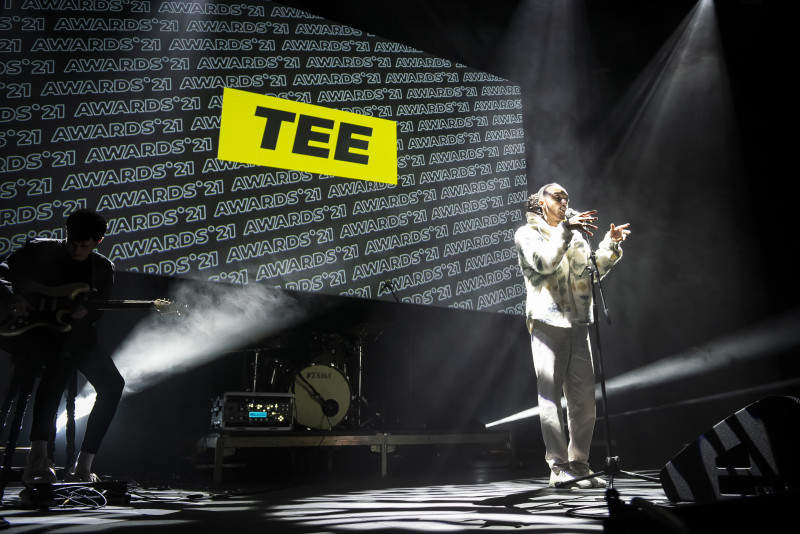 (TEE at the Youth Music Awards. Credit: Will Ireland)
Was choosing to follow a career in music a difficult decision?
I did a year of A levels and…I did fine, but I didn't do great. I remember it so clearly; I was I walking home through the park. I was just a bit upset. And I was on the phone to my dad, and my dad was just like, 'What do you want to do?' I'd never even questioned what I'd wanted to do before it just been like, 'Oh, I like music, but I also like math. So, like, I assume that my parents want me to do something that's quite like…
Seen as less risky?
Yeah, exactly. But then when he asked me that, it was like, 'Oh, do I have the choice?'…And so that turned into well, yeah, maybe I'd like to take music seriously because I love it.
You went to study music in Liverpool, what was the music scene like there?
Very indie...not a lot of pop and RnB…like there wasn't a lot of steps to follow for me. There's no one to copy. So, it was very, like if I'm going to do something then it has to be from my own brain. But in the same way there wasn't a lot of competition. It was very easy to like, get complacent and be like, 'Oh, I'm doing this, and I don't have to reach crazy, crazy high levels because no one else is really doing it.' So, it was good and bad in both ways.
You took part in LIMF Academy, a programme supporting young artists in Liverpool that Youth Music invests in. How did that help?
It was amazing because it was just like [Yaw Owusu who runs LIMF] built a community in terms of artists around you. We had a master class with a guy called Matt Cave, who mixed Louis Capaldi's album, and he's now my go-to for when I need masters, and because I have a relationship, I might send him something to master and he'd be like, 'go back to the mix engineer change this and change this and then bring it back to me'. I wouldn't get that from someone that I just randomly email to, you know?
It's just those little things building connections in the right places that as an artist keep you going. It was a really healthy year of building and figuring out and almost like, setting me up when I wasn't on it. I've got nothing but praises for it.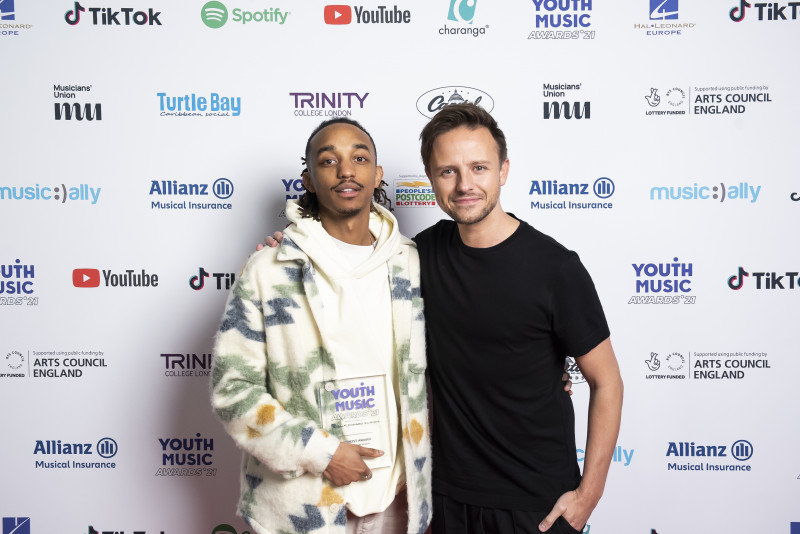 (TEE at the Youth Music Awards. Credit: Will Ireland)
Are you still in touch with people from that time?
Yeah definitely. There's one artist...we were in the same year. His name is Michael Aldag...but we've become really close from it. And he's just been really nice person to have in the industry, but the other side of the industry. We're able to talk about industry stuff but on a friendship level. We've just built connections together.
You've been a bassist and produced for other people. Was the goal always to do your own projects?
I always said that like I am happy to be a bassist...I'm happy to be a producer...and I'm happy to be an artist and I will try and do all three of them. Whichever one takes off then I'll go with it. However, now that I'm here I get a feeling from being TEE on stage I don't really get from anywhere else.
I feel like there's a message in my heart, and I feel like whenever I'm being an artist, I can get that out better than I can when I'm a bassist or when I'm a producer.
That's great. Your music feels like you've got a really strong sense of what you want to say.
Everything has always been like, 'how can I say this but in a mighty way? How can I make people think about the stuff that you don't like to think about, or to really kind of look inward at yourself?'
It's therapy for me...I'm probably the quiet person in the group. I actually find it really hard a lot of times to communicate my thoughts and feelings and stuff, but I feel like when I write it, then I can get everything out. So, a lot of it is really for me, but it's also like, I hope that somebody takes something from it.
(The Youth Music Awards 2021: Representing the Future of Music)
What keeps you going?
I think it's just a little confirmation that like I'm supposed to be doing it. This time last year things were going well, I was getting good streams...two months after that I had a really low point artists wise, that was like 'I just don't have the energy for this, it's too much.'
And then, randomly, I got the message about the Youth Music Awards and [LIMF Academy] said that they were going to put me forward and I was like cool. Yeah, sounds great.
But then actually going there and being in the room…and being on stage…and having amazing conversations - and still having amazing conversations - with people that I met that night…When we were in the middle of the performance and I could see people are engaged and listening, it feels like this is where I'm supposed to be. And even the reactions that I got from people, saying 'I was so in it, I was listening to every word', it feels like that's the point you know?
That's fuelled me and that means that like I need to do this properly. Because look at what happens when you take yourself seriously.
What can we hope to see from you next?
[After the awards] instantly I went into writing mode. From there [Youth Music] put me in contact with Spotify and we're talking about having a producer work with me. I'm just hoping to come out this year like we're here, we've arrived, and I hope everyone loves it.
-
Youth Music is a national charity funded by the National Lottery via Arts Council England, players of People's Postcode Lottery and support from partners, fundraisers and donors.
Every year, Youth Music provide more than 100,000 young people with the opportunity to make music, helping them to overcome the challenges they face in their lives. Their music projects support young people to develop their creative and social skills and make positive contributions to the community.
Check out TEE's music on Spotify and head over to youthmusic.org.uk to find out more about funding & campaigns.