In conversation with the makers of "Dear White Parents"
By Big Dada
Big Dada recently caught up with the makers of the "Dear White Parents" short film to talk about how it came to be and what they intend to do next with it. This film is rooted in the Black experience and was created to galvanise White parents into having those difficult, but necessary, conversations with their children about race and racism
The short is described as, "an intimate view of enlightening, sometimes uncomfortable, family discussions focused on parents helping their children understand racism through current events and sharing their own stories about how they first became aware of racism. Directed by Academy Award nominee Kevin Wilson, Jr. with narration by anti-racism educator Dr. Ronda Taylor Bullock, "Dear White Parents" asks the critical question, "How old were you when you first became aware of race?""
Here at Big Dada, we believe the responsibility of educating children on race should fall to ALL parents, not just parents of colour where these discussions seem to be part and parcel of growing up Black or as a POC. For change to take place these talks have to be widespread and should start at home.
Q: How did "Dear White Parents" come to be?
A: (Saffron) After the death of George Floyd, the world woke up to a reality Black people have been living for centuries. For generations, Black parents have had to have difficult and uncomfortable discussions with their young children in order to protect them from racial violence. 'The Talk' starts sometimes as young as four years old. 
While this is a near-universal experience for Black families, 65% of White adults said their parents rarely or never spoke to them about racism. Race is a life-or-death issue for Black families, but White families can ignore it altogether. We set out to change that by inspiring and documenting conversations about racism between White parents and their children so that we can equip and empower them to raise an anti-racist generation.
Q: What were your aims for this short, what did you want the film to achieve?
A: (Saffron) From the beginning, we wanted to make sure "Dear White Parents" was rooted in the Black experience. Many projects are speaking to change but far few are showing the change behind the camera. This was a conversation the Black community knew so well, so it was only right that they tell the story - grounded in their truth. Having a team made up of mostly Black and People of Colour, was an integral part of creating "Dear White Parents".
The truth is, telling White parents to have a conversation with their children about racism was never going to be enough. For this conversation to make a difference, it needs to be practised every single day, wherever possible. It needs to become normalised in the homes of White families and that's a commitment they need to make a part of their lives.
Ironically, diversity ceases to exist in front of the camera in conversations about racism. So, our aim was to change that and inspire White families to have the conversation by enabling them to see themselves in it. We also created DearWhiteParents.guide, to empower White parents and equip them with the tools, resources and age-related discussion guides they need to have the conversation every day. We want to flip the narrative and lift the burden from Black parents and work towards raising an anti-racist generation.
(Cali) We wanted this to be more than a film. We wanted it to be the start of a movement to create change. We wanted the film to awaken White families to the Black experience but also to inspire and equip White families to have these necessary conversations.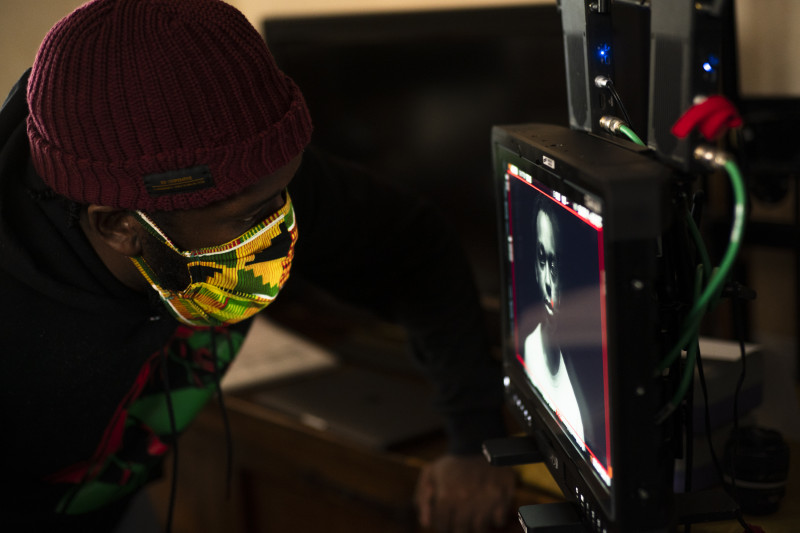 (Image: Director Kevin Wilson Jnr on set of "Dear White Parents")
Q: As a woman of colour, when did your parents first speak to you about racism?
A: (Saffron) I don't remember a specific age or time because I think my parents were always preparing me for the world - a world that might be different for me in comparison to my White friends at school or colleagues later on in life.
I have memories of being at school and my parents telling me their experiences of racism from when they were my age. I remember my Dad telling me about the KKK and racist skinheads and what to do if I was approached by one - essentially run for my fucking life. These are just some of my earliest memories I remember about my parents speaking to me about racism, let alone my own experiences of racism from an early age.
Q: If you aren't a person of colour, you may not feel the need to bring up racism to your children/social circle. How do we change this?
A: (Cali) As a White mum to a seven year old and a nine year old, this was a big learning experience for me. I think there are lots of White families who feel the need to bring up racism to their children but don't know where to start. We can change this by letting them know that it's ok if they don't get it right the first time and taking off the pressure for it to be a 'one time conversation'.
Also by providing education and tools, which is why as well as our film we also worked hard to put together an educational platform with discussion guides suitable for kids of different ages.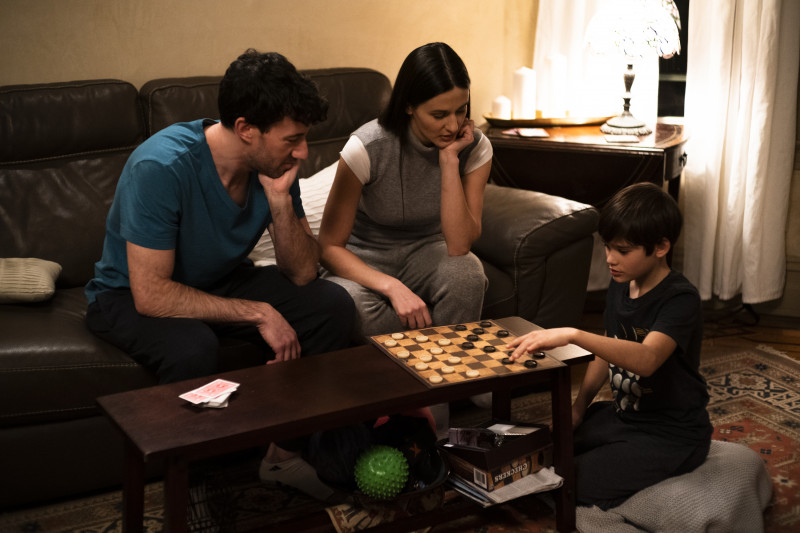 (Image: Still from "Dear White Parents")
Q: How do you think we (as a society) can assist these conversations to make sure they are taking place and that those having them are informed/well versed on the subject?
A: (Saffron) Powerful conversations move communities forward. As a society we can learn and evolve from one another by simply talking. We have the resources we need to empower families to have the conversation and it's no longer enough for them to avoid them and remain silent.
It's not up to Black people or People of Colour to encourage White parents to have the conversation, or teach them how. It's up to all of us, as a society, to take on our own responsibility and move forward together.
Q: What advice do you have for parents who want to bring this topic up?
A: (Cali) Start today! You don't have to have all the answers. And it shouldn't be a one time discussion. Depending on the age of your child there will be a suitable way to start the conversation, we've even put together a bunch of handy discussion guides.
(Saffron) We're all on this journey, we don't all have the answers but what matters most is that we commit to being the change we want to see. Every conversation is a step towards a better reality, all that matters is that we start.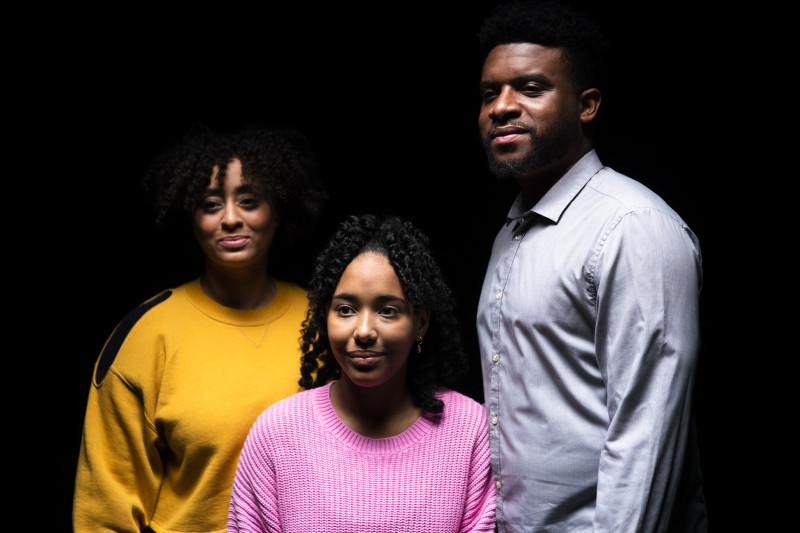 (Image: Family featured on "Dear White Parents")
Q: What would you say to people who would argue that by having these conversations we are victimising children?
A: (Cali) I would say that by not having them we are victimising children. This isn't about making White children feel guilty. It's about being able to have honest discussions about racism the way you seek to have that openness about sex or drugs or many other topics. As our amazing Anti Racist Educator, Dr Ronda says, 'If we're not the ones teaching them, who or what is?'
(Saffron) I would say, if you agree that everyone should be treated fairly, then you should believe in having a conversation with your child about racism. Children are not colour blind. They are making sense of the world around them and it's up to us to make sure we raise anti-racist children. Children that can be bystanders, who can intervene when they see things that are not right. Talking to children about racism is teaching them history, education, empathy and activism. Talking to your child about racism is creating a better reality for all.
Q: What's next? How do you see "Dear White Parents" evolving as a message/statement?
A: (Saffron) Next, is getting "Dear White Parents" into the hands of parents who need it. Now we have our film and our resources, we want to focus on starting the conversation. That's why we're making a pledge to start one million conversations. We want parents to join us and commit to having conversations about racism with their children early and often.
Big thank you to Saffron Renzullo and Cali Oliver for making this happen. To watch the full video, click here: https://www.youtube.com/watch?v=4VN38NfM4gk&t=5s and for more info & resources head to: https://www.onemilliontalks.com/